Healthy Cooking Classes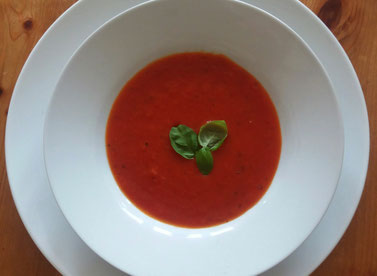 So often our good intentions for meal plans and following nutritional recommendations are challenged because we just lack ideas for menus and find it too difficult to stick to a healthy eating regime.
My HEALTHY COOKING days and courses, held at my home in East Hanningfield, can help inspire you with fresh ideas and stimulate you with delicious recipes.
One-to-One day classes for just £120
Tailor-made to your requirements & preferences
Bring a friend for just £30 extra
Meal and recipe suggestions for yeast-free and sugar-free protocol
4 1/2  hour  class
Saturday or mid-week
Three course lunch included
Hands-on involvement
Recipe booklet, packed with information, to take home
Venue near Chelmsford, Essex
Gift Vouchers available
Contact Emma at nutrition@emma-cockrell.com for more information
I run the classes either on a mid-week day or a Saturday, from 10am to 2.30 pm, and the day includes a three course lunch of foods cooked and demonstrated. The class can be very hands on, enabling you to get a feel for textures and consistencies, but you can also just sit and watch whenever you want to. Every class includes a full recipe and information folder to take home, as well as a goody-bag to take what you have cooked!
If you have a friend or family member you would like to bring along, there is just an additional charge of £30, to bring the total to £150. If you have a group who would like to do the class, or if you want the class to be spread over a 3 week course, then contact me for prices.
A class covers key meal and snack ideas and how to make these as nutrient-rich, tasty, and simple as possible. The aim will be for you to leave feeling more enabled and comfortable to cook without refined grains and sugar. There is plenty of scope for meal variations for any specific food sensitivities or intolerances.
A one-to-one class makes an ideal gift for family or friends. Contact me to request a gift voucher.
With nearly 40 years experience in teaching whole-food cookery classes and working with restricted diets, I have a wealth of knowledge to share. Come along to a relaxed, informal, but highly informative cookery class, based at my home near Chelmsford in Essex, to gain confidence in a new way of cooking.
If you are interested in finding out more, or in booking a class, email me at        nutrition@emma-cockrell.com
"Dear Emma, Wow what great things you have taught us to do with all that healthy food. B (husband) was really impressed and found it all so full of flavour. You have given us some great recipes to use and encouraged us to experiment with recipes of our own. Thank you so much for what you have shown us. Maybe now we will eat a more healthy diet. Emma we wish also to thank you for the professional way in which you presented the healthy eating course and made it so interesting."
B & N,(husband and wife) Essex (Booked by a relative as a gift)
"A lovely relaxed atmosphere" P. W. 
"Just perfect. Very friendly and informal." L. R. (Booked by a relative as a gift)
'We all enjoyed the experience and thank you for sharing your knowledge with us. You are very knowledgeable and were able to answer any questions we had about health issues and meal ideas. Its very clear you are passionate about clean eating and lifestyle, it shows in your work. I will be recommending this experience to friends and family. Thank you for making the afternoon so enjoyable' K. A. (Booked for a family event day)
"A brilliant course, which far exceeded my expectations. Plenty of new ideas as to the possibilities for healthy cooking – it doesn't have to be boring! It was particularly useful that Emma demonstrated the preparation of healthy and tasty food, which we were later able to eat.
Handouts of recipes and background information on herbs, spices, nuts and seeds etc. were very helpful and will be an invaluable resource for the future. Emma's style is friendly and patient, so I felt happy to ask for clarification or to discuss aspects of the course during our sessions. I now have the confidence to experiment with ingredients and be more creative in my cooking. Highly recommended".
R. D-S. Essex
I feel the cookery class is very good value. Not only did I learn to cook in a lovely atmosphere, I then got to talk about and enjoy eating the food we had made. All the food was delicious and very satisfying.  Further more; I looked through my folder to find that Emma had enclosed all the recipes we had made, a nutrient summary of all the foods/herbs and spices we had used and some information on which cooking oils to use and so much more useful information.  Emma had covered everything and I mean everything I needed, to help me put what I had learned into practice. Additionally Emma encouraged me to experiment with different vegetables/spices and herbs. I feel I have gained many skills and I feel more confident and on my way to a healthier future.  Really good value!! I would definitely recommend this class.  A.T. Essex