About Emma Cockrell - DipNT MBANT CNHC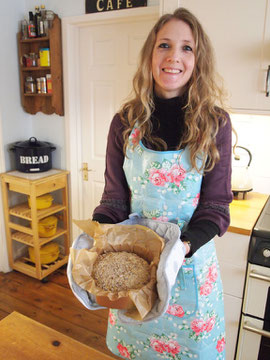 With 40 years experience working with natural foods, my interest in nutrition began when, as a teenager, I realised that what I ate and drank affected my own wellbeing – firstly in finding I had a food intolerance, and then going through 'mystery fatigue' following glandular fever. Supporting my health nutritionally, I overcame these issues and went on to become manager of a wholefood shop and restaurant, holding wholefood cookery classes and giving talks to adult education courses and social groups. I also developed meal ideas and menus for those on restricted diets.
I continued to maintained healthy eating principles while bringing up a family and found that careful diet management completely eradicated my children's eczema. I discovered that it is possible to raise children without including sugar in their diet!
In building my own health I went through Erica White's 'Anti Candida Four-Point-Plan' and then went on to work for Erica's company 'Nutritionhelp' as administrator and PA. I also provided an 'encourager' facility, supporting clients on the Four-Point-Plan with practical suggestions and help, including how to shop and cook on a yeast-free programme.
I trained with Premier Training International and became a fully qualified and accredited Nutritional Therapist, receiving a Diploma in Nutritional Therapy.  The intensive and comprehensive training covered the application of nutrition and health science for all major body systems, together with practical application in a clinical setting. This thorough training enables me to give applicable advice on nutrition to each individual. I am registered with the Complementary and Natural Healthcare Council (CNHC) and The British Association for Applied Nutrition and Nutritional Therapy (BANT).  http://www.bant.org.uk/bant/getPractitioner?id=42274
I have extensive experience in working with gut health, particularly issues associated with yeast, which may affect IBS, digestion, female hormones, joint integrity, allergies and skin health. I have had many years working with children and enjoy supporting the health of children of all ages within a nutritional capacity.
At the beginning of 2013 I was made Nutritional Director of Nutritionhelp, the online nutritional support company set up by Erica White. Working with Nutritionhelp gives me the opportunity to support clients around the world with dietary recommendation and advice to encourage health. Many clients come to Nutritionhelp with a medical diagnosis of ME/CFS, or who think yeast infection may be playing a part in their health status.
My passion for passing on knowledge about healthy eating to as many people as possible means that I am frequently asked to write articles on all aspects of nutrition for both paper and online magazines.
I am married and have two adult daughters and three grandchildren. I practise near Chelmsford, Essex.
www.emma-cockrell.com
Supporting Health with Food and Nutrition