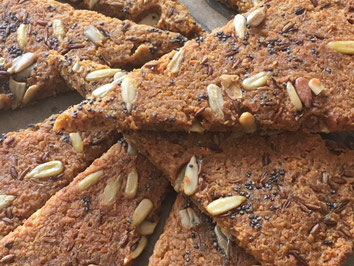 Encouraging clients to include a wide cross-section of nutrient-rich foods is always a top priority. This Buckwheat and Carrot flat bread uses an alternative grain, available in many supermarkets and wholefood shops.  Buckwheat is gluten-free and rich in rutin (which supports good circulation). Beta carotene-rich carrots reduce the amount of flour required and create a slightly sweet and light pastry. This recipe is fine for most people on an anti-Candida programme. However, it is not suitable for those watching their oxalate intake, since Buckwheat is very high in oxalate content.
This is a great accompaniment for hummus or alongside salad. Add some garlic granules to make a 'garlic bread'.
Buckwheat and Carrot Flatbread
Ingredients
250g finely grated carrot
40ml melted coconut oil
55g buckwheat flour
1 tablespoon sunflower seeds
1/2 teaspoon cumin seeds
Method
Preheat the oven to 180 degrees C or fan 160.
Combine carrot, oil, and buckwheat flour in bowl and mix well until it all comes together in a ball.
Place on a sheet of non-stick baking parchment sprinkled with the seeds. P lace another sheet over the top. Gentle roll to form a circle about 25 cm in diameter and 1/2 cm thick.
Carefully peel back the top layer of baking parchment and lift the bottom layer, with the mixture onto a baking tray.
Bake for 30-40 minutes until flatbread is firm and golden
Cut into wedges and serve immediately or allow to cool before serving.
Store in a tin and keep in the fridge for up to a week or freeze.