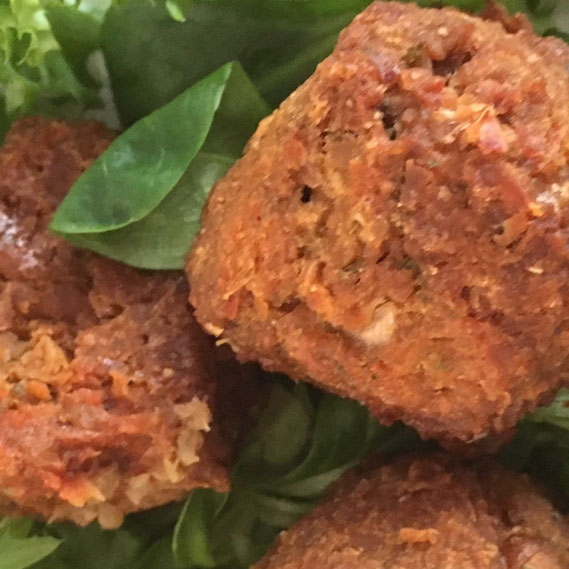 If you have ever visited the Middle East, the taste of mildly spiced, golden falafel is a rich treat! This recipe avoids the hassle of frying and produces a delicious savoury dish very simply. Many falafel recipes use raw and soaked chickpeas as the base. In the light of wanting to reduce phytates however, I prefer to use soaked and cooked chickpeas. For simplicity you can of course use ready cooked tinned or packet beans. Phytates are present in beans and grains and can prevent good absorption of minerals. Soaking and cooking does substantially reduce phytate content.
Baked Falafel
Ingredients
1 tin chickpeas, rinsed and drained (400g)
1 medium onion, finely chopped
3 cloves crushed garlic
2 teaspoon ground cumin
1 teaspoon ground coriander
a pinch of Lo-Salt or Himalayan Pink Sal
1 tablespoon tapioca OR arrowroot flour
1 egg, beaten
2 teaspoons olive oil
Method
Place the chickpeas in a food processor with the onion, garlic, spices, tapioca, salt
Whizz until the mixture is combined and chickpeas chopped. Don't over-process as this will make the mixture too mushy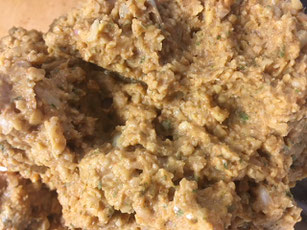 Stir in the egg thoroughly.
Make small balls the size of walnuts and place on a baking try lightly greased with extra virgin olive oil
Drizzle a little more oil over the top of the falafel balls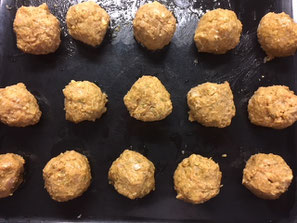 Place in the oven at 180 degrees celsius and bake for 30-40 minutes, until falafel are golden and firm to the touch.
Serve immediately or allow to cool and use in lunch boxes or for snacks with lemon and garlic mayonnaise.