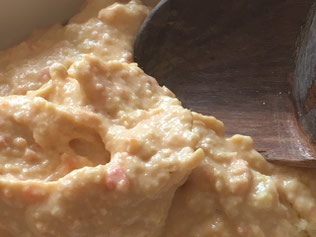 Back in the early 1980's, when I first started to make hummus, it was not available in the shops. Fast forward nearly 40 years, and there isn't a deli or supermarket that doesn't stock this Middle Eastern dip. This ease of accessibility can be both helpful and unhelpful! Hummus provides a great protein snack which is suitable for many on an anti-Candida programme, and being able to buy it in the local supermarket can be a great help on a limited diet. However, besides needing to check store-bought hummus for citric acid, and even sugar, we need to bear in mind that most commercially-produced hummus will contain cheap, processed and refined vegetable oils. Along with this there is often a lot of processed salt. This being the case, making your own hummus can be beneficial.
However, the use of these oils and salt has meant that the supermarkets have defined what we think hummus ought to taste like. Consequently, a home-made dip can take some getting used to. Adding some red pepper,  increases flavour and texture without having to rely on cheap oils and spoons of salt.
Red Pepper Hummus
Ingredients
1x400g can/pack of cooked chickpeas
1 garlic clove, crushed
Juice of 1/2  freshly squeezed lemon
1 tablespoon tahini (sesame seed paste)
1 red pepper
3-4 tablespoons olive oil
Pinch Lo-Salt or Himalayan Pink Salt
Method
Finely chop the red pepper, place in a pan with the extra virgin olive oil, and cook on the stove over a low heat until soft. Place in a food processor with the chickpeas, crushed garlic, lemon juice, and tahini. Blend until smooth. Season to taste. Serve on top of salad, with veggie sticks, or with cauliflower flat-bread.