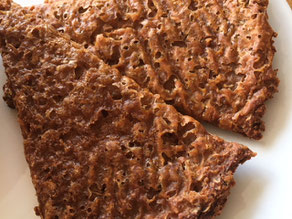 This Cauliflower Flatbread makes a great accompaniment for dips and salads. Being vegetable-based,  it can either be low grain or grain-free, depending on your requirements. Because cauliflower is one of the lower oxalate-containing vegetables, this is also a helpful recipe for those trying to minimise dietary oxalates. Try it with Persian Aubergine Dip, or hummus. This recipe is very easy if you have a food processor to reduce the cauliflower to 'grains'. Alternatively, just rub the cauliflower over a grater to create small, fine pieces.
Ingredients
1 medium cauliflower head
2 beaten eggs
2 heaped dessertspoons of brown rice flour OR tapioca/arrowroot flour
1 teaspoon paprika
2 teaspoons ground cumin
1/2 teaspoon ground coriander seed
1/4 teaspoon garlic granules
Extra virgin olive oil
Method
Preheat the oven to Fan 160 degrees Celsius
Either grate the cauliflower to small 'grains' or whizz in a food processor, to obtain a couscous-like texture
Place in a bowel with the brown rice flour or tapioca/arrowroot flour, and spices
Add the eggs and mix well to create a 'dough'. Bring together to form a ball
Place a sheet of non-stick baking parchment on a baking tray and lightly oil with extra virgin olive oil
Place the mixture in the centre of the tray and gently pat down to form a circle about 25 cm in diameter, and about 1/2 cm thick
Place in the oven and bake for 25-30 minutes until turning golden
Turn the flat bread over. The easiest way to do this is to put another baking tray over the top and simply flip upside down. Return the flatbread to the oven adn bake for a further 15-30 minutes, until the second side is golden.
Remove from the oven, cut into triangles and allow to cool
Store in a tin in the fridge for up to a week, or freeze.